Memorial Day Weekend comes around only once a year. That is a disappointing statement because Memorial Day Weekend is the weekend for THE music festival. Yes, THE music festival. THE music festival to top all other music festivals. The Acoustic Cafe.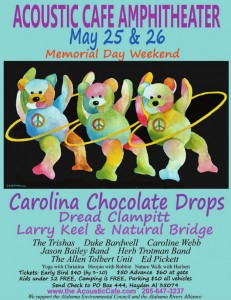 This very special music festival, The Acoustic Cafe, has been at least a yearly event since 1996! (Some years there have been two festivals). Why is it so special? That's a hard question to answer. The best way to find out is to attend!
"We are not limited to a certain type of music other than good music. We have become the largest gathering of earthy tie dyed people in Alabama. We create a three day village of love, harmony & tolerance. Strangers look out for strangers and we all keep an eye on the kids. This is a very kid friendly event (children under 12 are free!). There is no other festival like this anywhere. People started coming for the music, but the family reunion atmosphere we have created is what keeps people coming back year after year."
This year's festival will include The Carolina Chocolate Drops, Dread Clampitt, Larry Keel & Natural Bridge plus lots more!!

Today, May 14, is the last day to order tickets online and save $10. But the price at the gate is still a bargain! All the info is on the website: www.TheAcousticCafe.com
See you there!!