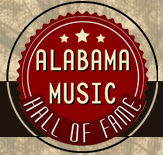 Looking for an idea for a day-trip guaranteed to please everyone?  May I suggest a drive to Tuscumbia in North Alabama for a visit to The Alabama Music Hall of Fame?
Yes, it was closed for about 8 months, but it's now open again Thursday thru Saturday, 11am to 5pm with tons of information about Alabama Artists. You'll not want to rush your visit! Plan to stay awhile to take it all in.
Whet your appetite with articles, photos and videos on their website. And when you visit, please tell them MusicSceneAL.com sent you!