Spread the word! It's been around for years, but somehow I keep finding people that don't know about it! You folks in Gadsden have a treasure right there in your back yard. I'm talking about MoonSongMusic Acoustic Songwriters Cafe on Noccalula Road.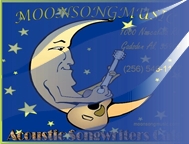 Danny Moon has this really cool venue where songwriters can showcase their songs. No, this is not a noisy bar with TVs on every wall. This is an intimate listening room featuring original artists.
Get a bite to eat while you're there! My favorite is their Cuban Bread Sandwiches. And they have assorted salads, coffee, espresso, flavored coffee, tea and soft drinks. What a bonus… NO SMOKING!!
MoonSongMusic Cafe is located at 1000 Noccalula Road, Gadsden, AL  35904. Check the website at www.MoonSongMusic.com for more information including who is playing next… and tell them MusicSceneAL.com says hello!!