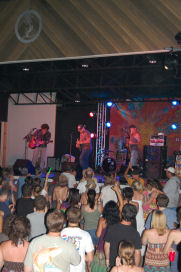 Festival Season is just around the corner. It's time to start making plans and maybe putting in for vacation days as needed to attend your favorites! Bands are booked months in advance, so check the websites of festivals to see their lineup.
This year's Hangout Music Fest is May 18 – 20 at Alabama's Gulf Shores and features music greats Dave Matthews Band, Red Hot Chili Peppers, and a couple of guys I'd really like to see – Steve Winwood and Randy Newman.
I've not taken a poll, but I'm pretty sure there aren't many, maybe none, that book as quickly as The Acoustic Cafe. Their schedule for the Memorial Day Weekend 2012 Festival has been posted for months. This year's lineup includes The Carolina Chocolate Drops, The Trishas, Larry Keel, and better every time you hear them, Dread Clampitt!!
Visit our Festivals page for a list of more of Alabama's best! If your favorite is not listed, please let us know with an email to Info@MusicSceneAL.com so we can let others know about it, too!